Lakemore Fisheries Weather Forecast
Here at Lakemore, we decided that it would be a good idea to provide a weather widget on our site to help our visitors to plan their trip to Lakemore. Below is the best widget we found. Taking official data from the nearest weather centre in Crewe, the widget below enables you the chance to plan your visit according to the weather patterns predicted.
How to use this weather widget
Above is an animated display of the current weather conditions in the skies above Crewe, as indicated by official data. Just as with televised forecasts, they can't be guaranteed 100% but instead should be considered a guideline only.
Abbreviated days of the week buttons can be seen just below the animated display. Hover over these for some further information, and click to turn the focus of the animation to your chosen date. To return to a live feed of today's weather, click the 'LIVE' button to the left.
Going fullscreen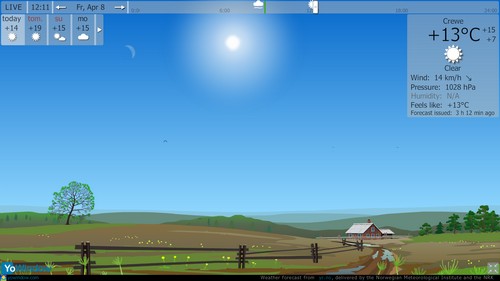 This widget gives you the option to go full screen, which activates a number of additional features. When you click full screen, you will see a layout similar to the screen shot above.
As you can see, the days of the week now appear in the top left corner instead of along the bottom, and you have more detailed temperate, wind, air pressure, humidity and an idead of how the elements will feel on your skin, plus a note mentioning when the data used for prediction was gathered.
Along the top of the window you will also see a bar with a marker and a slider on it. The marker indicates the current time of day based on a 24 hour period, and the slider allows you to adjust the animation to display data from a time of day different to the current moment. Points at which the weather changes are indicated by icons along this bar. Have a go at sliding left and right along the bar.
To exit full screen mode, press escape.